Four Year Career Plan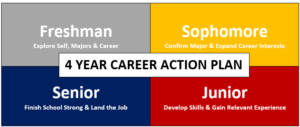 Freshman
We fine. We Shine
It is never too early to get started.
Visit CDC to attend a presentation to learn about the services and resources available at CDC to support you during your years of study at AASTMT and meet with the Career Development Center staff member.

Create your Connect account and build your profile.

Talk with CDC staff and discuss how your interests and preferences relate to majors and careers.

During this year, you are formally and informally involved in assessing your skills, interests, values, and abilities.

Utilize assessment tools Use focus 2 career,  and other resources, to identify your interests, values, skills, work environments, etc.

Explore major choices; Use What Can I Do with this Major,

Build a strong foundation for your GPA, improve personal presentation and public speaking skills by attending CDC events, workshops and training (Communication skills, Time Management, and Study skills habits)

Create your first resume – use the CDC's Resume and Letter Guide (PDF) to assist you.

Build your LinkedIn profile and learn how to find AAST alumni and other people working in your fields of interest.

Learn about networking and informational interviewing and practice talking with people about their career paths and interests.

Build experience through volunteer work, part-time work, summer jobs, and job shadowing
Sophomore
You expect more when you're a sophomore.
Generally, during this year, you begin to explore majors and career options more seriously.
Make an appointment with a career counselor to discuss assessments and career options.

Declare your major; meet with your advisor if you still have difficulty to determine career choices based on field of study; learn about career paths within your field

Clarify your skills, interests, and work preferences and reflect on how they relate to possible careers.

Assess your competencies and identify those that explode your passions and imagination.

Set-up goals for your career with appropriate bench-marks; work with Career Services to identify any obstacles and opportunities for your career path.

Build knowledge and identify skills and experiences for fields of interest using focus 2 career, and other print and on-line CDC resources.

Actively participate in groups related to your interests to gain experience and test out those fields.

Talk with alumni and others with similar interests and learn about their experiences.

Improve interpersonal skills through information interviews, networking events, and involvement on campus.

Build your career network of mentors, peers, and professionals – meet with faculty members outside the classroom, explore the Mentors network iCAN

Consider the Study Abroad to look into options for studying abroad.

Attend Career Services events, workshops and panel and Choose courses that help you make progress toward a degree of interest.

Attend career fair sand events to learn about internships opportunities

Attend employer information sessions to learn about opportunities.

Document your experiences, skills, and accomplishments.
Junior
No need to fear,you're in your third year- Keep up the good work. Starting the Dream.
During the junior year you have to increase your competitive edge and remember that you have a little more to go. Identify and reflect on the pros and cons of your experiences-jobs, internships, volunteer, leadership, classroom, etc. and look for trends.
Assess your career readiness Check your Professional work habits

Take Career ready assessment 

Practice interview skills to prepare for internship.

Continue to improve your skills through attending career-related events, courses, and workshops.Use resources, courses, and workshops provided by the Career Development Center.

Review goals of your career plan and make adjustments as necessary

Check with CDC what assessment(s) do you need to have

Volunteer and take on leadership roles in your areas of interest.

Mentor other students

Apply for an internship; study abroad

Attend Career Services events, workshops to build experience within your desired field

Develop your job search campaign; identify opportunities in your field; set short- and long-term goals

Refine your resume; seek out a resume critique from a peer, a mentor, or Career Services; practice writing a cover letter

Continue to improve your network, and identify professional references

Document your experiences, skills and accomplishments
Senior
Glad to be a Grad – Get ready to beat the competition.
Clarify your interests and values – discuss with the CDC how they connect to your post-graduation plans.

Attend Career Development Center events, workshops and panels.

Examine the pros and cons of past experiences (internships, volunteer, workshops, events).

Gather information on companies of interest; find information on salary, sample interview questions, company reviews, and organizational culture

Create a list of possible post-graduation studies and career paths. Get input from trusted advisors like the CDC staff, faculty, professionals, or alumni.

Conduct informational interviews to learn about career paths and options.

Update your Connect profile. Identify key job search resources in your field.

Compose your elevator pitch; practice responses to common interview questions.

Learn to talk about your education, experience, and skills in a concise, professional manner

Have your resume, cover letters, and personal statements reviewed by the CDC.

Refine your interviewing skills by signing up for a workshop of interview skills and practice interview

Join a professional association related to your Major/Area.

Attend career fairs both on-campus and off Campus.

Meet with faculty or employers as you create a list of references or request recommendation letters

Determine additional education requirements for your field; research graduate school programs; prepare for (TOFEL, IELTS, GRE, GMAT, etc.)
To know more about your 4-year career plan, please, stop by (CDC) office.
Telephone: (03) 4254319 – 4252058 – 468756 EXT: 3216
Mobile / Whatsapp: 01102020126
Hotline :19838
Email:  cdc@aast.edu
Address: Wabour El Mayah, behind Bab Sharki, Moharram Bey, Alexandria
Office working hours: Sunday-Thursday, 10:00 a.m. – 9:00 p.m. Friday, Saturday 2:00 a.m. – 5:00 p.m.